Data Engineering / Analytics
Infobahn Data engineering and analytics service offerings include:
Complete analysis of functional needs
DW/Big Data/BI governance consulting, strategy, and architecture development
Data mart and data warehouse design.
Migration strategy and planning, cross-platform migration and version upgrades.
Integration with CRM & other enterprise business applications.
Implementation of any 3rd party collaboration, file sharing and Web based OLAP server solution for dashboards, visual analysis, reporting, and custom business intelligence web portal development
Identify and design dimensions, measures, KPI(s), target budgets, alerts, and dashboard.
Writing ad hoc queries and simple to complex drill down reports.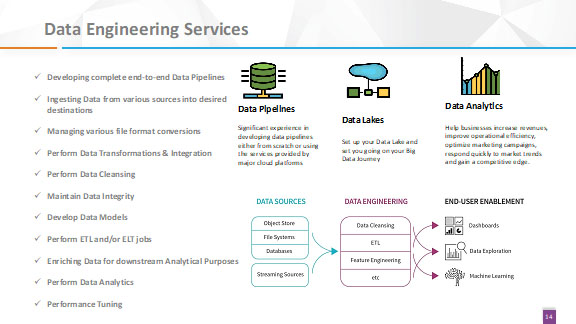 Our solution Sparkflows (sparkflows.io) enables building end-to-end Big Data Applications to help users perform complex Analytics, Machine Learning & Data Pipelines on Apache Spark. All organizations dealing with Big Data have the challenge of extracting enough value out of them quickly. We provide a powerful solution in that direction. Use the drag and drop user interface to interactively build end-to-end data pipelines and application workflows, connecting datasets to transformation operations to machine learning modeling. Build new workflows using the functional building blocks or edit existing workflows to extend and customize the functionality.